Minnis: This is the worst budget statement ever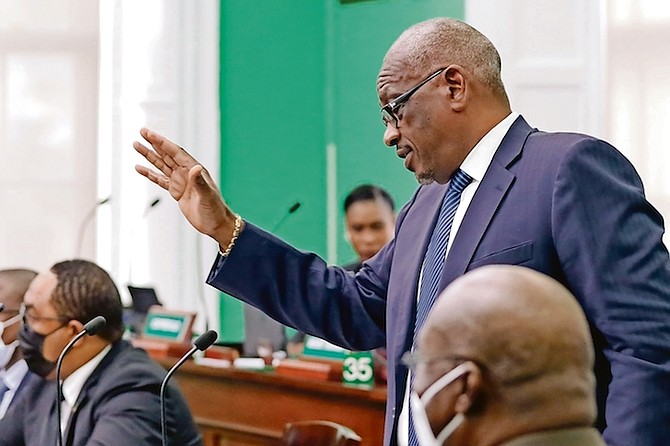 Dr Hubert Minnis in Parliament yesterday.
By LEANDRA ROLLE
Tribune journalist
Last night FORMER Prime Minister Dr Hubert Minnis called Prime Minister Phillip 'Brave' Davis' mid-year budget report the 'worst' and 'emptiest' ever, saying it lacked vision to transform the country's struggling economy and help Bahamians suffer.
MP for Killarney Dr Minnis said since his election the Davis administration has only adopted policies that have created more economic hardship for the Bahamian people and accused them of being 'heartless' .
"They attacked the food program feeding vulnerable and hungry people after his government imposed a 10% increase on breadbasket items for those same people. The prime minister and PLP high command have very little feeling or heart for … Bahamians, especially working families," Dr Minnis said during his mid-year budget submission yesterday.
"…Remove VAT on bread basket items and remove VAT on medicines. Many people skip their medications just to buy food and subsequently see their illness and disease deteriorate further, which puts increased stress and strain on our healthcare system. This policy has caused enough suffering.
The former prime minister also pointed to recent editorials published in a local daily which were critical of the performance of the ruling government.
While delivering his speech, Fort Charlotte MP Alfred Sears rose on a point of order, asking that the comments be stricken from the record, which they eventually were.
Still, Dr Minnis continued his attack on the government, saying the Davis administration lacked a clear vision to help the Bahamian people and accused officials of always being in campaign mode.
He also asked what the government's plan was on the way forward after the twin crises of Hurricane Dorian and the COVID-19 pandemic.
"Mr. President, we are going through a difficult period. We are still in the midst of a pandemic. Residents of Abaco and Grand Bahama are still recovering from a historic hurricane. Russia unjustly invaded Ukraine three weeks ago, causing major shocks to the global economy," Dr Minnis told parliamentarians.
"The Bahamas needs good leadership to guide us through these challenges and sadly our Prime Minister has proven not up to the task. The mid-year budget he presented does little to help people recover from the difficulties they face.
Dr Minnis said it appeared the government had no real solutions to deal with the country's woes, as he pointed to their "failure" to even increase the number of vaccinations in the country.
"Since coming to power, the new government has not been as serious as mine in promoting vaccines. They failed in this effort. Our vaccination rate has stagnated around 40%. Recent data would indicate about 45 percent of our population. This rate is not enough to protect us from future variants and this low vaccination rate is a threat to our economy," he said.
"…When the current government was in opposition, it claimed to have many answers. Now in power, the government doesn't seem to have a clue how to increase vaccination rates. the well-being of our economy is at stake. the well-being of our people is at stake."